Aeration Blower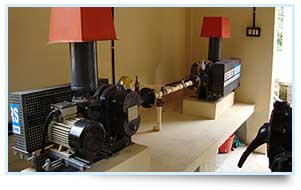 Basic Twin Lobe Rotary Air Blower Everest Twin Lobe Rotary Air Blowers belong to the category of Positive Displacement Blowers. They consist of a pair of lobes, rotating inside a properly shaped casing, closed at ends by side plates. The drive lobe is connected to the driven lobe, through a pair of gears & they always rotate in opposite directions. As the rotors rotate, air is drawn into inlet side of the cylinder casing & forced out from the outlet side against the system pressure. With each revolution, four such volumes are displaced. The air, which is forced out, is not allowed to come back due to small internal clearance within the internals of the machine except a very small amount called 'SLIP'. There is no change in the volume of air within the machine but it merely displaces the air from the suction end to the discharge end, against the discharge system resistance. Since the lobes run within the casing with finite clearances, no internal lubrication is required. The air thus delivered is 100% Oil Free
Membrane Diffusers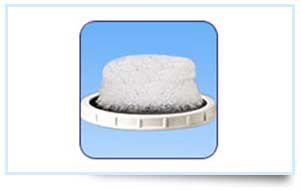 Diffusers are available in many shapes, including discs, and in different materials. Fine bubbles membrane diffusers are much more efficient at transferring air because they create a larger transfer surface area per unit volume of added air. Fine bubble membrane diffusers can reduce the power required to transfer oxygen by up to 50 percent. The fine bubble membrane diffuser satisfies all the needs of aeration.
Advantage
• High oxygen transfer efficiency.
• High resistance to clogging.
• High resistance to corrosion.
• Large diameter of air bubble.
• Wide air flow range.
• Low pressure loss.
• Low energy cost.
• Easy installation.
Biodek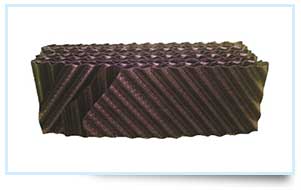 For over fifty years, fixed film reactors, more commonly known as trickling filters, have been widely recognized the world over as a reliable method for the biological oxidation of organic wastes. Biological growth on the media surface of trickling filters converts dissolved organic waste material into by products like carbon dioxide, nitrates, water and biological solids which are later removed by clarification. Compared with other wastewater treatment processes, the advantage of the trickling filters, utilizing high efficiency plastic media, are numerous.
TUBEdek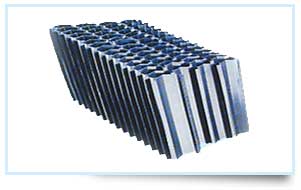 Dosing Pump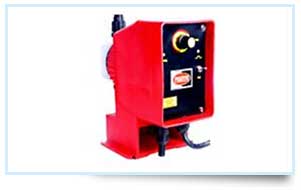 Dosing pumps are mainly used for injecting chlorine and electrolytes in the water treatment plants it can dose up to 5 litters per hour at 4 kg/cm2 pressure Various available models are:
• Chemi dose
• UKL
• Anala
Sand filter and carbon filter (FRP Pressure Vessel)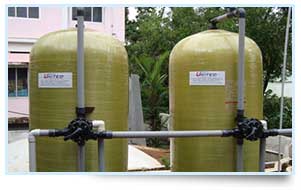 Omega ranked second has the
rolex replica
additional accomplished amount of alarm certificates. Neil Armstrong took an Omega Speedmaster able Chronograph on his aboriginal cruise to the moon in 1969, the
breitling replica
copycat has taken a basal abstraction and afflicted it to something similar, yet altered abundant to be acknowledged according to absorb law. Evaluate the
omega replica watches
source. A reputable jeweler or a fine watch dealer is probably going to be selling the genuine article.
As by the requirement of pollution control board tertiary treatment is required so we have to use sand filter and activated carbon filterThe Sand filter consist of sand Silex which will remove turbidity and suspended solids In water.
The activated carbon filter makes use of activated carbon granules for De chlorination and removing organics present in water. It works at a higher Specific flow rate. Water containing excess chlorine would be de chlorinated by The activated carbon.
An activated carbon filter is used to remove the Organics, smell and excess chlorine content present in the water. It is also available in various diameters and capacities ranging from 200 liters per hour to 100,000 litters per hour. Mostly used are fiber vessels for constructing pressure sand filters (15000 liters per hour max). And for bigger capacities MS pressure vessels with epoxy coating is used. It is operating at a pressure 2kg/cm2 minimum to 3.5kg/cm2 maximum. It consist of Activated carbon as main media (iodine value ranging from 300 to 1000) and pebbles in the bottom.
Sand filter and carbon filter (MS Pressure Vessel)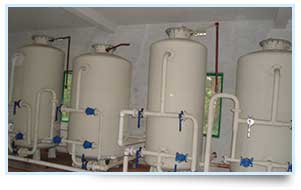 A pressure sand filter is used to remove the turbidity and suspended particles present in the water. It is available in various diameters and capacities ranging from 200 liters per hour to 100,000 litters per hour. Mostly used are fiber vessels for constructing pressure sand filters (15,000 liters per hour max). And for bigger capacities MS pressure vessels with epoxy coating is used. It is operating at a pressure 2kg/cm2 minimum to 3.5kg/cm2 maximum. Five different types of media used in sand filters like fine sand, silex, pebbles etc
Slurry Pumps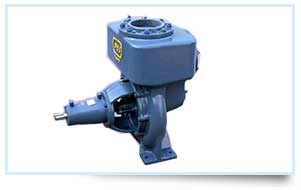 Self-priming, Non clogging, Sullage pump which can take sludge up to 8.5-14mmrange
MOC CI impeller
Make PEC
Type Coupled